Discussion Starter
·
#1
·
After finding a few surprise options on the market, and watching some ZZP promotional videos recently, I thought it would be good to share what's come across the radar (with some initial thoughts/comments). If you've seen anything else 3800-specific out there in recent years, please add it in. I know guys like LS4king and Milzy have done some various items, but I'm more focused on things being offered on a scale large enough to support a decent demand of our market, if it's made known.
I may create a video on this stuff, to make a few more folks aware of these items, in hopes of encouraging these companies by throwing them business to support their efforts. Feel free to share ideas for that, too.
Supercharger intercooler cores
There's been many designs over the years, and used options pop up for sale once in a while: ZZP (various), Thrasher, PRJ, WBS, MAP, MACE Air-Air (ugh) and a few custom jobs, including for MP112/TVS/Whipple/KB adapting. The best performing ones were always those which have quality dense-finned cores sealed under the SC and permit enough flow through a ~3/4" hose to maintain efficient cooling during an entire boosted run.
ZZP Stage 2.5
(looks like a great update to the only new IC still available)
ZZPerformance Intercooler Cores for 3800 allows for temperatures to drop between 50 and 90 degrees depending on blow RPM and the boost level.
zzperformance.com
ZZP Short Stack (SS) IC update
- 2.5-style design updates
(improved, but I still don't see it being worth 75-90% of IC install work/parts to get ~40-50% of the full-size performance gain)
ZZPerformance Intercooler Cores for 3800 will fit under any hood with no modifications. It allows for temperatures to drop between 50 and 90 degrees depending on blow RPM and the boost level.
zzperformance.com
Fuel rails
ZZP and Aeromotive have been on the market for a while, with ZZP's including required lines/fittings/regulator mount, while Aeromotive is just the logs (sold many places, Jegs, Summit, Amzn, etc.). Used versions of previous ZZP designs and PRJ rails sometimes pop up for sale in classifieds/marketplace.
If you are looking for a better looking fuel rail solution or you just installed a phenolic spacer or intercooler these are what you need. These come as a complete kit, no need to make any trips to the hardware store, they simply bolt right on. This is a revised design of our original $500 Fuel...
zzperformance.com
Buy Aeromotive 14131 Fuel Rails, 96-06 GM 3.8L L67 L32 Supercharged, Red: Fuel Distributors - Amazon.com ✓ FREE DELIVERY possible on eligible purchases
Nuke Performance
- $308 (found via Google recently... various sellers)
Nice features usually only found on custom rails, -8 on ends, -6 under center, no regulator/lines included
(Sweden-based supplier)
Aftermarket high flow motorsports fuel rail for the GM V6 3800 Series II (L36 Series II)
(primary US-based distributor)
Nuke Performance GM 6cyl 3800 Series II (L36 Series II) Fuel Rail (100-07-205) | Torqued
Coilover Suspension
There's been a few options out there, originally being custom conversions to struts by adding coilover components as an upgrade (Intense-Racing still lists a version), before BC Racing released an option a few years back at ~$1,000-1,300 range from various sellers.
04-08 Pontiac Grand Prix
INTENSE Racing: INTENSE Coilover Pair for 97-03 W-Body
ZZP Coilovers
- $999.99
Viable alternative to BC's, and installed pretty easily while working fine for a year or so since debut (made an install video and drove mountain rally in 2021). Build quality & materials appear to be outsourced, sadly, matching other imported products found on Amazon, etc., which may show through as they get more miles across more cars.
Here at ZZPerformance we continue to push the limits of even our oldest platforms, we continue to develop and produce new parts well past the last car rolls off the line, which is why we're so excited to bring our new ZZP W-Body coilovers to market. With the knowledge gained working on previous...
zzperformance.com
Rev9 Coilovers
- $532.00 (found via Google recently... on eBay and various vendors)
Similar looking quality to ZZP or BC, but haven't heard of anyone trying them. If someone takes the plunge, please share results in Suspension Forum.
Fitment Information Pontiac Grand Prix (1997, 1998, 1999, 2000, 2001, 2002, 2003) Specs and Information Damping Levels: 32 Levels Height Adjustment: Yes Spring Rate(Front): 8 kg/mm (448 lbs/inch) Spring Rate(Rear): 5 kg/mm (280 lbs/inch) Spring Length(Front): 200 mm Spring Length(Rear): 200 mm...
coiloverkits.com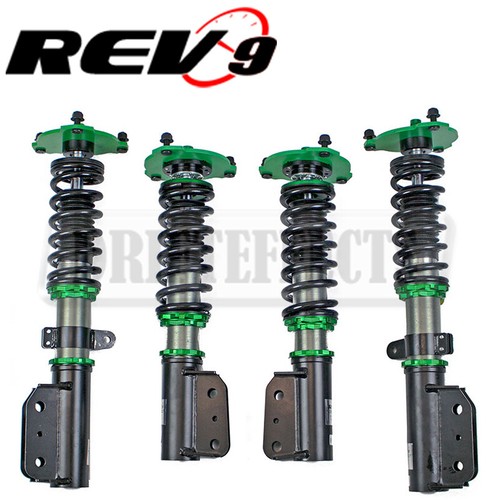 Find many great new & used options and get the best deals for FOR PONTIAC GRAND PRIX 97-03 REV9 HYPER-STREET 2 COILOVER DAMPER SUSPENSION KIT at the best online prices at eBay! Free shipping for many products!