Discussion Starter
·
#1
·
You have now!!
We raced today at Norwalk and it ended up being a great day of racing. There were so many amazing records, this may have been the most fun I ever had at the track. Chris Yates crushing the non I/C record, Tim King well into 11's, Mercs' freak car, Chris Z's pre gen running 12's, turbo car 1.52 60', Steve millers 12.0, Kevin uptons PB, Scott Murrays PB, John F's PB................ Amazing day!!
The new time for BADSSEI is
[email protected]
with a
1.576 60'
Thanks to everyone that helped me out at the track today between runs. Also thanks To Scott and Jeff for letting me beat the crap out of there beautiful car.[8D] It has been a fun road getting the car from 11.65 to 10's over the last several months. I didnt change much since the last time I raced other than a few things in the pcm. I will say again that the car sure is tough to launch. I was fortunate enough to get a little traction a few times. I am still being easy on the car at the line. I have dreams of being able to floor this monster.[8D] Maybe if I can get the rear coilovers on and bars redone, I can get more aggressive launching. Here are the best 3 runs.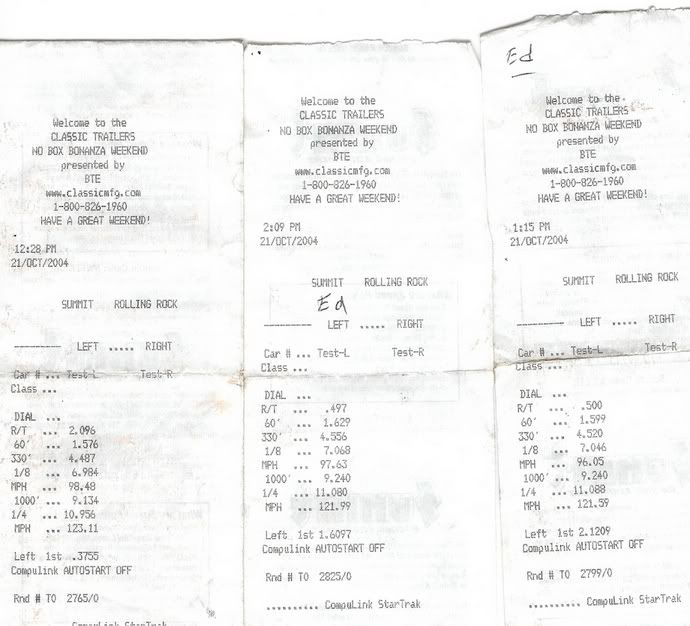 I plan to race again Saturday at Norwalk and I am confident I can do better. I am only .002 behind the current #2 time. Unfortunately for me, my buddy JT has his hopes on the #2 spot, if not #1 spot. He is racing Sat also, weather permitting.
If anyone that was there has video, please email me at
[email protected]
so I can see about getting a copy of the runs. I know several were recording. Thanks!