I removed the silicone gasket material from both coolant ports. The nylon had literally torn away and was being pulled towards the coolant ports. The only force I can see doing this is the contraction of coolant as the motor cools. It could also be pushed out by the nylon expanding if it has any ability to absorb coolant. However, I see no visible evidence of swelling that account for pushing the nylon out so far.
The nylon has clearly broken or torn.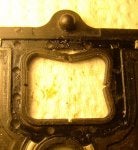 The silicone gasket was still holding so I wasn't losing coolant. So far I cannot see any damage whatsoever to nylon of the dead port.